Welcome to the Rider Route Blog, brought to you by Valley Harley-Davidson®! Whether you're an avid motorcyclist or just starting your two-wheeled journey, this blog is your ultimate resource for all things Harley-Davidson® and motorcycle riding. We're passionate about the open road, the wind in our hair, and the freedom that comes with every throttle twist. Here, you'll find a treasure trove of articles, tips, and stories designed to inspire and educate riders of all levels. So grab your helmet, saddle up, and join us as we embark on thrilling adventures, explore scenic routes, and delve into the captivating world of Harley-Davidson® motorcycles. Let's hit the road together and make unforgettable memories that will last a lifetime.
Ride Along to Brightside Tavern 
Ride along with Bingo as he heads off to Brightside Tavern on his Harley-Davidson® motorcycle! As always, there's more to this adventure than just the ride.  
Dennison Yard & Museum Rider Route
The journey from Valley Harley-Davidson® to Dennison, Ohio is a captivating adventure filled with the freedom of the open road and the beauty of the Ohio countryside. From the moment we kickstart our engines to the arrival in Dennison, the thrill of riding and the stunning landscapes create a truly memorable experience. So, hop on your Harley-Davidson® motorcycle, embrace the spirit of adventure, and embark on a ride that combines the joy of motorcycling with the discovery of Dennison's history at the Railroad Depot Museum.
Clair's Tavern & Grill Rider Route
Are you ready for another adventure with Bingo? Well, get ready because he's about to take you on a thrilling journey that will work up an appetite! Bingo, the adventurous spirit, is off to Clair's Tavern, and he can't wait to show you the route he took after an exhilarating ride. As you accompany him, you'll witness beautiful landscapes and experience the wind on your face. But there's more to this adventure than just the ride. 
Dockside Restaurant Rider Route
There's something undeniably exhilarating about the open road, the wind rushing past you, and the roar of a powerful engine beneath you. And what better way to experience this thrilling sensation than riding a Harley-Davidson® motorcycle? We invite you to ride with Bingo on a virtual journey as we embark on an unforgettable ride to Dockside Restaurant, where scenic beauty and delicious food. 
Big Muskie and The Boondock Bar & Grill
As Bingo revs up the engine, feel the excitement course through your veins. The winding roads beckon, promising a journey filled with breathtaking vistas and hidden gems. West Virginia's natural beauty unfolds before your eyes as you cruise through lush forests, traverse rolling hills, and catch glimpses of babbling streams meandering alongside the road.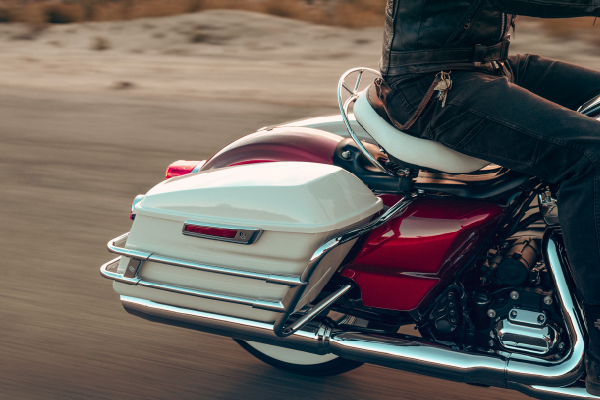 Ride to Marks Landing with Bingo
Embarking on a ride to Marks Landing with Bingo is an exhilarating journey that every motorcycle enthusiast dreams of. As you hit the road, the wind in your hair and the rumble of the Harley-Davidson® beneath you, the thrill of the open road becomes palpable. This iconic destination, known for its breathtaking landscapes and picturesque views, is the perfect backdrop for an unforgettable ride. But what truly enhances this adventure is the innovative Harley-Davidson Riding App. This cutting-edge application is designed to take your riding experience to new heights, offering real-time navigation, route planning, and a wealth of valuable information. So gear up, hit the road, and let the Harley-Davidson Riding App vlog be your ultimate companion for a ride of a lifetime. 
A Weekend Trip To The Caves!
This adventure offers ample time to explore and enjoy the ride comfortably. The round trip is approximately six hours, with an additional hour for a tour and stops along the way. Whether you're a motorcycle camper or prefer a more relaxed experience, there are suitable options available. Feel free to customize the adventure to suit your preferences, and don't hesitate to share any hidden gems you discover with fellow riders. Before setting off, we recommend visiting Valley Harley-Davidson, where our passionate team of motorcycle enthusiasts can provide valuable tips and local insights for your journey. 
Bikers Guide To Salt Fork State Park
This biker's guide takes you through an exciting route to Salt Fork State Park, starting from Valley Harley-Davidson. You'll turn right onto Fort Henry Rd, then left onto Cabela Dr, and an immediate right onto I-70. Follow I-70 W to Overbrook St in Wheeling, then take exit 5 for US-40 toward VA-88 S/Elm Grove/Triadelphia. From there, you'll explore landmarks such as the Madonna of the Trail monument and stop for a coffee break at Tim Hortons. While there, visit the Kennedy Stonehouse Museum, explore the Salt Horse Trail, and check out Hosak's Cave for beautiful scenery and photo opportunities.
Bikers Guide to OH - A Day On The Lake
This biker's guide features an exciting ride in Ohio, specifically between Rokeby Lock and Senecaville. The ride is approximately 74 miles, recommended for intermediate riders who enjoy spending more time on the road. Starting at Jesse Owens State Park - Maple Grove Campground, riders can visit the Big Muskie Bucket, a massive metal bucket from the world's largest earth-moving machine. Riding along OH-78 and OH-83 N, you'll encounter curving roads with various campgrounds and rest stops. In Cumberland, you can explore Pleasant City and its charming Main Street or take Marietta Road to skip traffic. Dolan's Chill & Grill is a great spot for ice cream. Continuing on OH-313, you'll reach Buffalo, where Wagon Wheel Bar & Grill and Cid's Smokehouse Grill offer tasty food options.